CONTACTS
Company Head Office: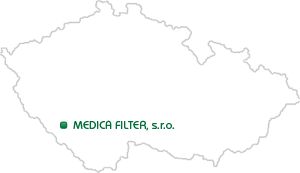 MEDICA FILTER, s.r.o.
Smetanova ul.
341 92 Kašperské Hory
Czech Republic

Find us in the map at www.mapy.cz

tel:  +420 373 705 740
fax: +420 373 705 737
e-mail: info@medicafilter.cz
ID No.:00669555
VAT No.: CZ00669555
Company executive:
Customer / Information Centre
We're here for you – We will answer to your questions, give you information regarding products, on the possibilities to make modifications to suit your needs, the progress of your order, and to help you with any returns and refunds.


Sales representative - Abroad
Jiří Šeda
tel:      +420 373 705 740
gsm:  + 420 603 899 557
e-mail: sales@medicafilter.cz
Sales representatives - ČR
Štěpánka Petrlíková
Mob: +420 724 559 187
e-mail: petrlikova@medicafilter.cz
Daniel Gejdoš
Mob: +420 602 552 959
e-mail: gejdos@medicafilter.cz
Klára Studená
Mob: +420 602 180 483
e-mail: studena@medicafilter.cz
Miloš Sládek
Mob: +420 606 786 924
e-mail: sladek@medicafilter.cz